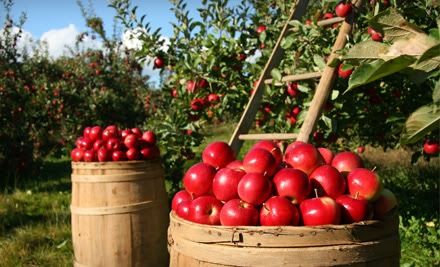 Groupon has a great deal for some of my local readers that visit Eckert's Farms every year. For $10.00 you will get 2 Regular Admissions to the Farm, $20 value. Expires 10/7/2011.
If you do not yet have a free account with Groupon,
click here
to create one.
Click here to go directly to deal.
Unlike Snow White's stepmother, a farm is a kid-friendly, trustworthy source of apples. Ward off deep sleep with today's Groupon: for $10, you get two regular admissions to
Eckert's Millstadt Farm
in Millstadt, Illinois (up to a $20 value).
Owned and operated by the seventh generation of Eckerts, Eckert's Millstadt Farm brims with verdant apple trees and activities for all ages. At the newly added Jumping Pillows attraction, kids propel themselves skyward atop a colorful, inflatable pillow stolen from an Australian bunyip. Every hour on Fridays and Saturdays, the Jack-O-Lobber cannon launches a pumpkin a half-mile, instantly turning projectiles into pumpkin pie on impact. Slip below ground at Eckert's Mining Company, where a 70-foot underground slide takes patrons on a subterranean joyride. Families can enjoy a leisurely wagon trip out to the apple orchard or pumpkin patch, the fragrant fall wind ruffling hair and causing scarecrows to mimic semaphore movements. Most attractions are included in the price of admission, though events such as apple picking ($1.89/lb.) are available at an additional cost.